Protective Box (Pizza box shape) is one of the most popular varieties of packaging. Manufactured from strong corrugated material and is special design for mailing purpose or gift packaging. It is perfect for protecting your items during shipping.
Adding a foam lining to your box ensures products remain static in transit, whilst providing a protective cushion. Foam packaging is a reliable way to safely ship fragile goods.
Our foam inserts for cases are quick and easy to use; simply place the foam insert into your carton, add your goods then top with a second insert and your box is ready to be sealed.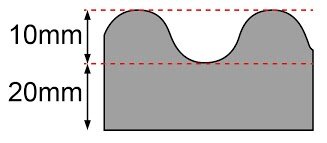 Features: Durable, practical and light weight.
Convenient and reusable.
Protecting your goods from damage.
Protective foam inserts to ensure items stay firmly in place.
Helps stabilise and secure your products.
Use one layer at the bottom and one layer at the top of your carton.
Box Size: 215mm (L) x 300mm (W) x 50mm (H)
Foam Size: 295mm (L) X 210mm (W) X 30mm (H)
Quantity: 10 sets